2020 Patagonia, Argentina Total Solar Eclipse
Patagonia Argentina, South America | December 12 - 20, 2020
Our trip to Patagonia to see the "Pandemic Eclipse" was one for the books!   Not only were we in position to see a once-in-a-lifetime total solar eclipse from Patagonia in Argentina on December 14th, 2020 but we were some of the only outside travelers permitted in to the country in time to see the event!  Coupled with the fact that the path of totality was clouded out almost everywhere except for our immediate vicinity makes this eclipse one of the most memorable.  Coverage of the eclipse and our camp can be seen in this article published in one of Argentina's main papers, La Nacion (a PDF version can be viewed here). Additionally, a short BBC video featuring Victoria Sahami from Sirius Travel can be seen here.
Trip Details and Highlights
Eclipse viewing from the centerline in the arid region near Piedra Del Aguila, Argentina on December 14, 2020

2 full days of guided exploring in the rapidly changing El Calafate region and the Patagonian ice fields

3 domestic flights within Argentina included
Transfer in/out of airports
Private transportation
Professional, bilingual guides

Sirius Travel scientist guides (at least 1 per 15 passengers) to answer any eclipse questions and explain the event

Educational materials regarding eclipse viewing and photography for all travelers
Several talks during the trip on subjects including eclipses, astronomy, and climate change.
Eclipse viewing glasses for safety
4-star accommodation where available and glamping (glamour camping) at the eclipse site.
Meals as listed in itinerary
Park entrance fees
Private activities

Eclipse begins
December 14, 2020
14:45 UT (11:45 ART)
1st contact

Totality happens
December 14, 2020
16:07 – 16:09 UT (13:07 – 13:09 ART)
2 minutes, 4 seconds

Eclipse ends
December 14, 2020
17:35 UT (14:35 ART)
4th contact
Tour Overview
Day 1
Start of tour in Buenos Aires.  City tour, welcome dinner.
Day 2
Flight to Bariloche.  Introduction to the area and sightseeing drive to our exclusive eclipse camp.
Day 3 - ECLIPSE DAY!
Spend the morning relaxing and preparing for the eclipse to begin.  After the eclipse enjoy a gourmet lunch and celebrate the event!
Day 4
Explore the Bariloche area and Nahuel Huapi National Park with one of several activities options.
Day 5
Flight from Bariloche to Calafate.  Tour the Glaciarium, devoted to the Patagonian Icefield and its glaciers, in the afternoon.
Day 6
Full day tour to the famous Perito Moreno Glacier, one of the few advancing glaciers in the world.  As the size increases, the front of the glacier gains large cracks and crevasses that regularly cave off, creating an exciting natural show.
Day 7
Full Day Tour to Estancia Cristina inside Los Glaciares National Park in Santa Cruz Province. Strategically built on a glacial valley formerly occupied by the Upsala Glacier, one of the area's most spectacular natural settings, the Estancia is surrounded by picturesque views of snow-capped mountains, lakes, rivers and hanging glaciers.
Day 8
Flight to Buenos Aires and farewell dinner and Tango show.
Day 9
Check out after breakfast and transfer to airport.
Questions? Contact us Today!
Day 1
Saturday, December 12, 2020
Arrive Buenos Aires (D)
Welcome to Argentina and Buenos Aires! Upon arrival at Buenos Aires International Airport we will meet and transfer you to check in at the hotel.
In the afternoon your bilingual guide will lead you on a tour of Buenos Aires' most important historical sites.  In the evening enjoy a welcome dinner near our hotel and an introductory talk.
Accommodation: Buenos Aires, Loi Suites Recoleta or similar
Day 2
Sunday, December 13, 2020
Travel from Buenos Aires to Bariloche (B/S/D)
After breakfast, transfer to the local airport for your flight to Bariloche, Argentina.  Leaving Bariloche airport we will enjoy a sightseeing drive from the Andes to the vast steppe lands in the east area of Nahuel Huapi National Park. Along the road and led by a professional bilingual guide, we'll discover some landmarks of the region such as Limay River, Anfiteatro, Valle Encantado, Alicura, Collon Cura river and the perfect cone of Lanin Volcano. During the drive you may see some interesting local animals such as Choiques, Guanacos, wild rabbits, foxes, deer and condors in their natural habitat.
We will arrive at our exclusive observatory eclipse camp located near the centerline of the eclipse path where we will relax in luxurious outdoor living.  Enjoy some drinks or refrescos, or, if you prefer, explore the area with easy hikes. We will serve a gourmet candle-light dinner.
Additional photos of the facilities for our night of "glamping" is located in the "other information" section below.
Accommodation: exclusive eclipse camp on centerline
Day 3
Monday | December 14, 2020
ECLIPSE DAY at our exclusive camp (B/L/S)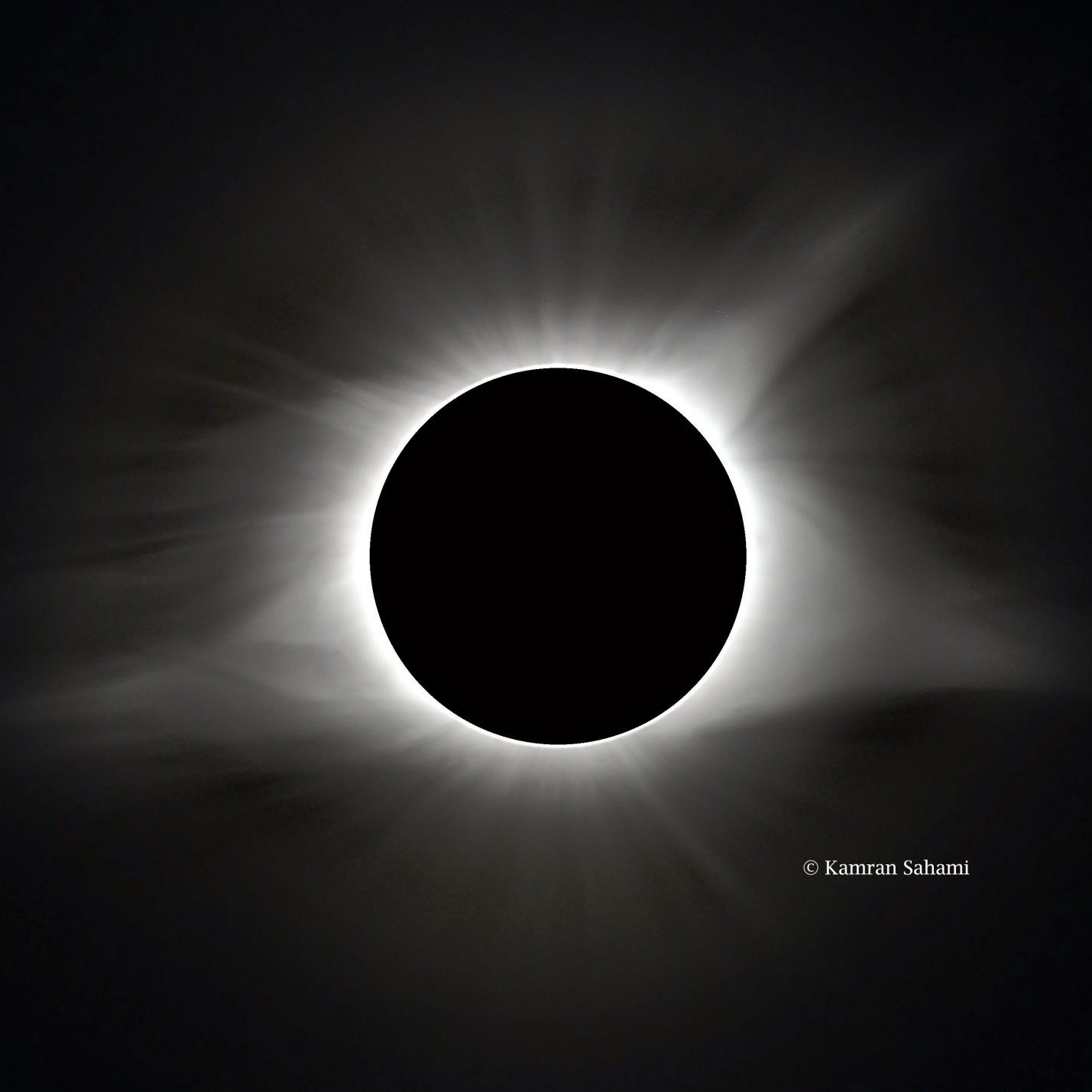 Breakfast at Camp, relax and easy hikes around. Enjoy once in a lifetime astronomical event in an exclusive observatory nomad camp with full comfort, amenities, gourmet food and premium wines.  We will provide all travelers with eclipse sunglasses to protect your eyes and allow you to safely enjoy the eclipse.
ECLIPSE TIMES:
1st contact: 11:45 local time
2nd contact: 13:07 local time
totality duration: 2 min 4 sec
3rd contact: 13:09 local time
4th contact: 14:35 local time
After the eclipse we will serve a gourmet picnic lunch accompanied by premium Argentine wines, where you can stay in our fully furnished stretch tent, or if you prefer, in the outdoors surrounded by nature. Time for relaxation at the camp. Transfer back to our hotel in the late afternoon.
Accommodation: Hotel in Bariloche
Day 4
Tuesday | December 15, 2020
Wine by the lake. (B/L)
Enjoy an exceptional experience in Bariloche surroundings with impressive vistas and stunning landscapes. (Activities/soft adventures to choose from: soft hiking, kayaking, mountain biking ride or sightseeing). Explore with an expert guide the best of the region; learn about the flora, fauna & history of Nahuel Huapi National Park. Continue with a delightful outdoor lunch "Almuerzo Campestre" accompanied by Argentinean Malbec wines next to a secluded and hidden bay surrounded by nature.
Accommodation: Hotel in Bariloche
Day 5
Wednesday | December 16, 2020
Bariloche to Calafate (B)
Arrive at Calafate, meet and transfer by private vehicle with an english speaking guide to the hotel.  Afternoon tour to the Glaciarium, a modern center devoted to the Patagonian Icefield and its glaciers, one of the few glaciological interpretative centers in the world. Entrance fee to the Glacio Bar is included. The Glacio bar is located underground at the Glaciarium and features ice walls. Everything is made of ice; the glasses, the bar, tables, and couches are fully made up of the glacier!
Accommodation: Calafate, Kosten Aike or similar
Day 6
Thursday | December 17, 2020
Calafate and Perito Moreno Glacier (B)
Enjoy a full day tour to the famous Perito Moreno Glacier, the only growing glacier on earth and declared a World Heritage Site by UNESCO. Perito Moreno Glacier in at the southwestern end of Argentino Lake 80 km from El Calafate. This glacier is named Perito Moreno after to a great Argentinean explorer from the last century and is one of the few glaciers in the world that is actively moving. It has become one of the most spectacular natural shows in South America.
The tour includes a boat excursion on the "Nautic Safari" departing from Bajo de las Sombras Pier and sailing along the glacier's southern wall at a distance of approximately 500 m with the possibility of watching the ice slide from the 60-70 meter high glacial wall.
Accommodation: Calafate, Kosten Aike or similar
Day 7
Friday | December 18, 2020
Calafate and Estancia Cristina (B)
After breakfast, we will enjoy a full day tour to Estancia Cristina.  In the morning we will go towards Cristina Farm, located at the base of the blue waters of Argentino Lake. The experience starts at Puerto de la Cruz in Punta Bandera. We will sail the northern end of the lake to the snout of the outrageous Upsala Glacier. Then we will sail along Cristina Channel until we reach the Cristina Farm port where the adventure continues in one of the most fascinating and legendary valleys in Patagonia.
Included:
Boarding a modern and comfortable boat at port Punta Bandera
Sailing among icebergs and stunning scenery overlooking the western front of the Upsala glacier and then through Cristina Canal to the point of disembarking at the Estancia.
Arrival Estancia Cristina and stay at the Estancia for 6 hours.
Guided visit to the Costumbrista museum (old shearing shed).
Ascent in all-terrain vehicles, traveling 9.5 km through mountainous roads.
Arrival to the Continental ice shelter.
30 minute walk.
Visit the front of Upsala Glacier, Lake Guillermo, Southern Patagonian Ice, and the Andes.
Return to El Calafate via the farmhouse of the Estancia and Puerto Banderas.
Accommodation: Calafate, Kosten Aike or similar
Day 8
Saturday | December 19, 2020
Calafate to Buenos Aires (B,D)
After breakfast, we will depart for El Calafate Airport in time to board our flight to Buenos Aires. Upon arrival in Buenos Aires we will transfer to our hotel and enjoy free time to relax.  In the evening there will be a farewell dinner and a tango show at Gala Tango.
Accommodation: Buenos Aires, Loi Suites Recoleta or similar
Day 9
Sunday | December 20, 2020
Buenos Aires (B)
After breakfast, transfer by private vehicle and English guide to Ezeiza International Airport for your flight back home.
Included
Astronomer and Climate Scientist guides

Professional bilingual guide

Eclipse viewing safety glasses

Commemorative Eclipse T-shirt

3 domestic flights during the tour

All ground transportation

4-star accommodations and Glamping

Airport transfers during the tour

Meals (as described in itinerary)

Lectures: Pre-eclipse talk and other astronomy/science talks throughout the tour.

Park entrance fees
Not Included
International flights

Items of a personal nature

Alchoholic beverages (unless specifically included)

Tips for drivers and guides

Meals not specified in the itinerary

Activities or services not mentioned in the itinerary

Travel insurance

Bariloche Eco Tasa (Municipal Tax)