Sept/Oct, 2021: Northern Lights and Sights of Iceland
Iceland | September 29 - October 4, 2021
Iceland is a place of many wonders, including the dazzling Aurora Borealis – or Northern Lights. Travel in Iceland with Sirius Travel and you will enjoy access to our astronomers who bring their expertise and understanding of the aurora to share with you as we search for the elusive natural phenomenon. The dates for this trip were carefully selected to optimize weather, dark skies, and lunar phase.  During the days we will visit some of Iceland's most famous natural and historic sites.
Moderate
$2969, Double Occupancy
5 nights / 6 days
Trip Highlights
UPDATE 10/7/2021: We have returned from a successful trip to see the Northern Lights!  Thank you to a great group for making this exceed expectations!
On this trip we will visit Iceland's most iconic sites including waterfalls such as the colossal Gullfoss, the enchanting Seljalandsfoss, and the breathtaking Skogafoss. We will explore Thingvellir National Park and walk through the valley where the tectonic plates are drifting apart, tracing the steps of Iceland's early settlers where brutal Viking-age justice was carried out and the Althingi parliament was founded.  We will watch in awe as the geyser Strokkur launches boiling water into the air in the Geyser geothermal area.  We will behold the striking basalt columns, supernatural black sand, and immense sea stacks of Reynisfjara on the south coast's black sand beaches. For any Game of Thrones fans we have included a day-long tour of off-the-beaten-path, breathtaking sites used in filming the show, including waterfalls, rift valleys, medieval villages and more.  And of course, we have included a city tour of Reykjavik followed by an afternoon luxuriating in the warm, mineral-rich waters of the Blue Lagoon while you enjoy the surrounding lunar landscape.
Payment
$2,969 per traveler (11 and older) – based on double occupancy
Single supplement: $650
Lower age limit is 11 years old.
To secure a reservation, initial deposit ($800) with a completed reservation form is required.
Cancellations must be made in writing by email or mail to Sirius Travel.
2nd payment ($1000) due March 29, 2021
Final payment due June 29, 2021
Cancellations
Cancellations made prior to September 29, 2020 are fully refundable.
If cancellations are made:

09/30/2020 – 06/01/2021 (364-120 days prior to travel):
65% of your total tour cost is refunded.
06/02 – 07/31/2021 (119-60 days prior to travel):
35% of your total tour cost is refunded.
08/01 – 08/30/2021 (59-30 days prior to travel):
10% of your total tour cost is refunded

There are no refunds after August 30, 2021
Day 1
September 29, 2021
Lunar Phase: Waning Crescent (D)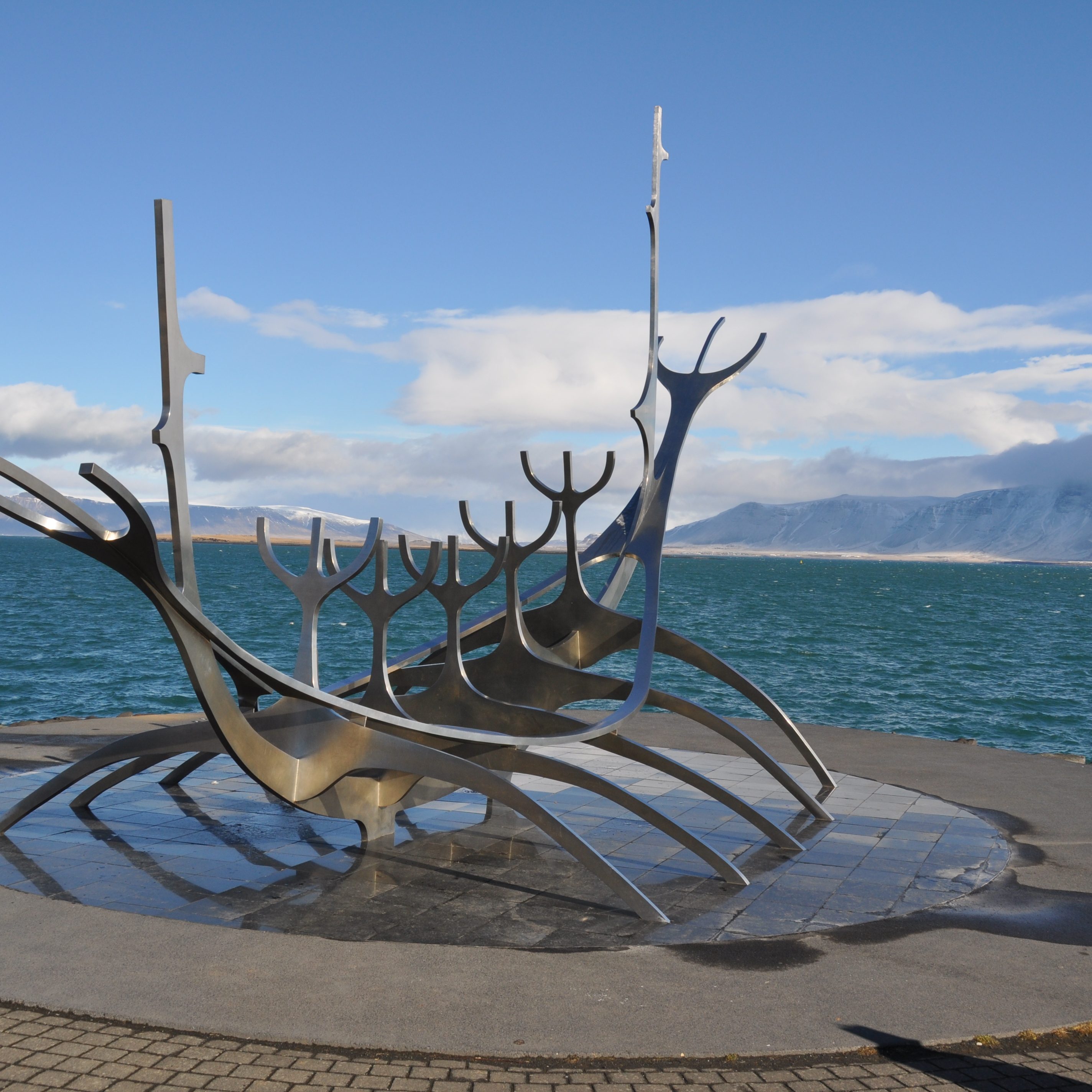 Travelers will be met at the airport in Reykjavik and transferred to the hotel where they will connect with other travelers. Enjoy the remainder of the day at leisure in Reykjavik or resting in your hotel room.  Welcome Dinner in the evening.
Evening opportunity to view Northern Lights if weather permits.  Overnight Reykjavik.
Day 2
September 30, 2021
Lunar Phase: Waning Crescent (B)
After breakfast,  enjoy a City tour of Reykjavik's top attractions.  Included on the tour will be The old Höfði house (where the summit between the Ronald Reagan and Mikhail Gorbatsjov took place in 1986), the Harpa concert hall (2013 winner of the European Union Prize for Contemporary Architecture – Mies van der Rohe Award), the City Centre, Hallgrímskirkja church  (whose design was inspired by basalt lava columns), the viewing platform at Perlan (whose glass dome provides a 360° view over Reykjavík), and Bessastaðir (the official residence of the President of Iceland).
Following lunch, we will visit the Blue Lagoon and relax in its remarkable waters. The Blue Lagoon is one of Iceland's most popular tourist attractions and considered by many to be an intrinsic part of the whole Iceland experience. Breathtaking scenery, ultra modern facilities, and an impressive track record in healing are why the Blue Lagoon draws visitors from all corners of the world to return time and time again.
Evening opportunity to view Northern Lights if weather permits. Overnight Reykjavik.
Day 3
October 1, 2021
Lunar Phase: Waning Crescent (B)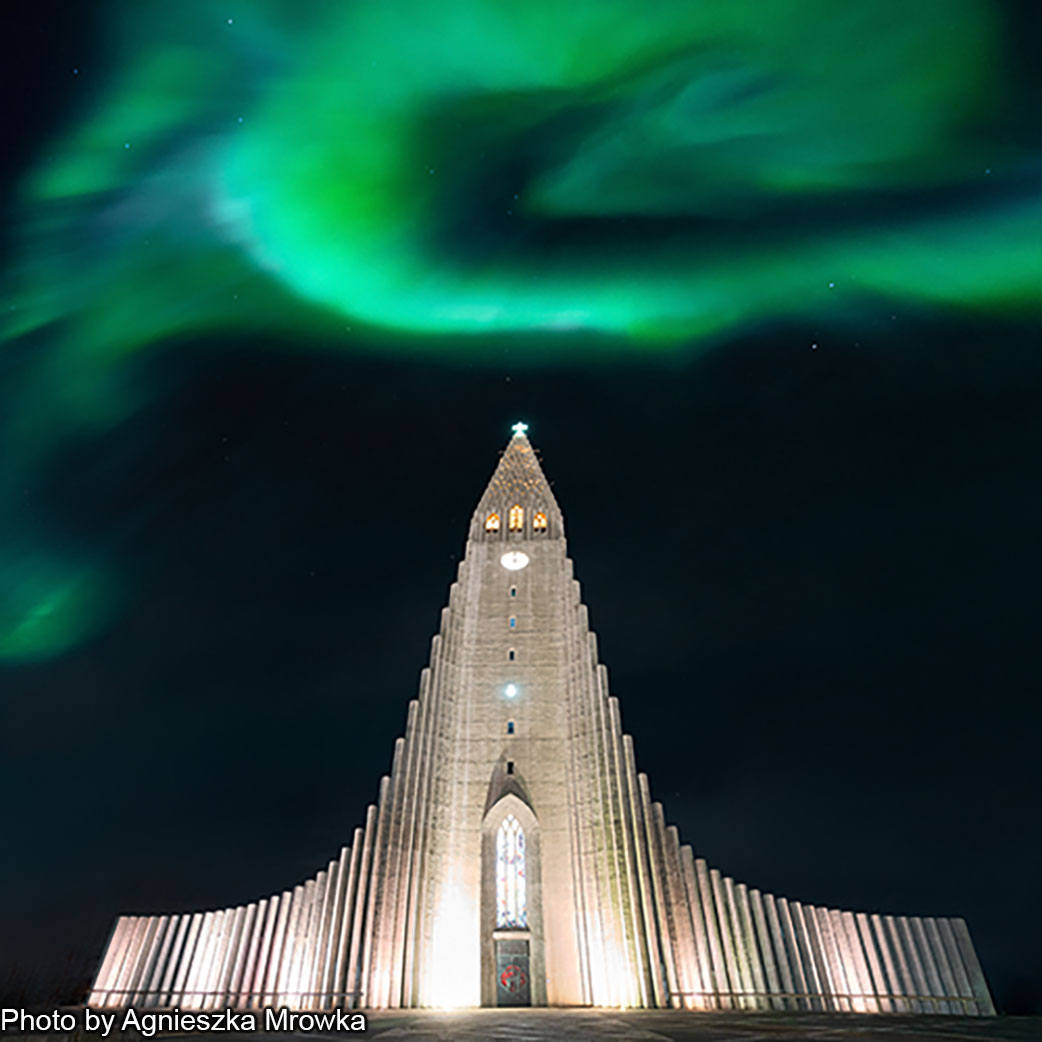 After breakfast, we will go on a full day tour of some of the best known natural phenomena surrounding Reykjavik. From spouting geysers, tumbling waterfalls, and ancient volcanoes, this excursion will introduce you to world-renowned pristine natural beauty through the heart of Iceland's Southern Region, stopping at some of Iceland's most iconic sites.
Þingvellir National Park is an attraction of great historical, geological and cultural significance. Located in a rift valley where the Eurasian and North American tectonic plates meet, the UNESCO designated world heritage site is also the birthplace of the Althing—Iceland's parliament founded in 930 AD—where the nation's most powerful leaders would meet to decide on legislation and carry out brutal Viking-age justice.  The tour continues across an area of picturesque scenery to the mighty Gullfoss waterfall. Once there, you can take several paths around the two tiers of cascading water to explore several vantage points. Extra time is allotted at this location for a lunch break at Gullfoss Café.
Following our lunch break, we will visit the home of "The Great Geysir" hot spring, which all geysers are named after, this area is an impressive collage of bubbling mud pools, hissing steam vents, and colorful algae deposits. Strokkur geyser puts on quite the show every few minutes blasting boiling water high up into the air.
While any one of these stops makes incredible fodder for your Instagram feed, they also all have rich histories and fascinating tales, each told with their own nuances by our knowledgeable guides. It's not just facts and figures that bring these places to life, but the compelling stories our guides have collected over time.
Evening opportunity to view Northern Lights if weather permits. Overnight Reykjavik.
Day 4
October 2, 2021
Lunar Phase: Waning Crescent (B)
Leaving after breakfast, we will take you along the southern coast through the country's lush farmlands, flanked by rugged mountains, glaciers (including the infamous Eyjafjallajökull) and volcanoes of the interior on one side and vast Atlantic ocean views on the other.
On this tour, we will visit Seljalandsfoss waterfall where the Seljalandsá river, which originates under Eyjafjallajökull glacier, falls as well as Skógafoss, one of the largest waterfalls in Iceland.
Just outside the town of Vík í Mýrdal (or just Vík to the locals), we will visit the soaring basalt rock formation known as Reynisdrangar and the black sand beach of Reynisfjara.
Evening opportunity to view Northern Lights if weather permits. Overnight Reykjavik.
Day 5
October 3, 2021
Lunar Phase: Waning Crescent (B, D)
Today's tour takes us to off-the-beaten-path locations that were used in the filming of Game of Thrones in Iceland.  A treat for fans of the show, this will also take us to some spectacularly beautiful places that are not on the typical round of sights that tourists visit.  For those that know the show, we will visit the locations of some of the show's fiercest and most dramatic scenes like where Drogon the dragon went hunting for goats, where the Hound and Brienne of Tarth battled for Arya Stark (if weather permits) and where the Wildlings and Thenns attacked Olly's village.  We'll also visit the Bloody Gate, where the Wildlings roamed South of the Wall, and more.  We'll also walk around the settlement-era lodge in Þjórsárdalur valley where elaborate scenes were shot, including a certain hair-raising massacre of a village.  It's a real kick for fans of the show to inhabit the world of Game of Thrones, but even those who've never seen the show will be able to enjoy the striking scenery on this outing.
On our return to Reykjavik we will have a farewell dinner and an evening opportunity to view Northern Lights if weather permits. Overnight Reykjavik.
Day 6
October 4, 2021
Lunar Phase: Waning Crescent Moon (B)
After breakfast we will checkout of our hotel and travelers will continue their onward journey home or elsewhere. Transfers to the airport will be provided.
Included
Astronomer and Scientist guides

Professional bilingual guide

All ground transportation

4-star accommodations

Airport transfers on first and last day of the tour

Meals (as described in itinerary)

Lectures: Astronomy/science talks throughout the tour.

Blue Lagoon entrance fee

Perlan observation deck
Frioheimar greenhouse

Park entrance fees
Not Included
International flights

Items of a personal nature

Alchoholic beverages (unless specifically included)

Tips for drivers and guides

Meals not specified in the itinerary

Activities or services not mentioned in the itinerary

Travel insurance