August, 2026: Solar Eclipse and Sights of Iceland
Iceland | August 10-17, 2026
August 12, 2026.  Iceland will experience a total solar eclipse!  We are delighted to guide our eclipse chasers to one of our favorite destinations, the land of Fire and Ice!  Explore Iceland with Sirius Travel and you will enjoy access to our astronomer, geologist, and climatologist guides who bring their understanding of the natural phenomena to share with you as you chase a total solar eclipse and visit amazing geologic sites. The itinerary for this trip has been carefully planned to optimize your chances to view the solar eclipse.
$6540
Moderate
Breakfast: 7, Lunch: 6, Dinner: 5
8 days / 7 nights
August 10-17, 2026
Trip Details and Highlights
Eclipse viewing from Iceland on August 12, 2026

4 or 5-star hotels throughout the tour
Private transportation
Professional local guides and a dedicated Tour Director

Sirius Travel scientist guides (at least 1 per 20 passengers) to answer any eclipse questions and explain the event

Educational materials regarding eclipse viewing and photography for all travelers
Eclipse talk and discussions on subjects including eclipses and astronomy, any subjects our scientist guides specialize in.
Eclipse viewing glasses for safety
Flexibility planned for eclipse day – 3 separate viewing locations have been identified and we will determine our viewing location based on the weather conditions that day.
Reykjavik city tour.
Iconic waterfalls including the colossal Gullfoss, enchanting Seljalandsfoss, and breathtaking Skogafoss.
Thingvellir National Park and both Geysir and Seltun geothermal areas.
Icelandic horses and a demonstration of their gaits (they have 5!)
Basalt columns, supernatural black sand, and immense sea stacks of Reynisfjara on the south coast.
Diamond Beach, where the icebergs which fill the Jökulsárlón glacier lagoon wash up on a black sand beach.
Sky Lagoon and Blue Lagoon thermal pools
The Westman (Vestmannaeyjar) Islands to see Puffins and the Elheimar museum.
It is important to be aware that Iceland is notorious for its variable weather.  Fortunately Icelanders and your Sirius Travel guides are well prepared to chase clear patches in the clouds – they often do it for the Northern Lights tours in the autumn – and we have built flexibility into our plans. This trip will be an amazing way to see Iceland while pursuing an eclipse but we want all of our travelers to be prepared for the risk of the weather and to select this trip with full awareness that the odds of clear viewing are approximately 40%.

Eclipse begins
August 12, 2026
16:45 UT/local time
1st contact

Totality happens
August 12, 2026
17:46:05 – 17:48:07 UT/local time
2 minutes 2 seconds

Eclipse ends
August 12, 2026
18:46 UT/local time
4th contact
Tour Overview
Day 1: Start of tour in Reykjavik. Airport transfers, Hotel check-in, welcome talk.
Day 2: City tour. Flyover Iceland. Sky Lagoon.
Day 3: Eclipse Day! Eclipse talk and Photography workshop in the morning.
Day 4: Golden Circle (Þingvellir/Geysir/Gullfoss), Friðheimar greenhouse, horseshow and stable visit.
Day 5: Westman (Vestmannaeyjar) Island, Seljalandsfoss waterfall, puffins and Elheimar museum.
Day 6: South coast, Skógarfoss waterfall, Vik, Amphibian boat tour and Glacier Lagoon
Day 7: South coast, Reynisfjara beach, LAVA center, and Blue Lagoon. Farewell Dinner.
Day 8: Hotel check out, airport transfers, and flights home.
Payment
$6,540

per traveler (15 and older) – based on double occupancy
Single supplement:

$1100

Children (7-14 years old)

$1,970 per child – Up to 2 children, if they share a room with 2 adults

Children staying as a second occupant in a room with one adult must pay adult fare.
Lower age limit is 7 years old.
To secure a reservation, initial deposit ($950) with a completed reservation form is required.
2nd payment ($1,350) due September 1, 2024
3rd payment ($1,350) due September 1, 2025
4th payment ($1,350) due January 15, 2026
Final payment due April 20, 2026
Cancellations
Cancellations made prior to August 10, 2025 are fully refundable.
Cancellations must be made in writing by email or mail to Sirius Travel.
If cancellations are made:

08/10/2025 – 04/12/2026 (364-120 days prior to travel):
65% of your payment to date is refunded.
04/13/2026– 06/11/2026 (119-60 days prior to travel):
35% of your payment to date is refunded.
06/12/2026 – 07/11/2026 (59-30 days prior to travel):
10% of your payment to date is refunded

There are no refunds after July 12, 2026
Day 1
Monday, August 10, 2026
Arrive in Iceland
Travelers will be met at the airport in Reykjavik and transferred to the hotel where they will connect with other travelers. Enjoy the remainder of the day at leisure in Reykjavik or resting in your hotel room.  Meet for a welcome talk before dinner to introduce your guides and discuss our itinerary.
Accommodation: 4-star hotel in Reykjavik
Day 2
Tuesday, August 11, 2026
City Tour and Sky Lagoon (B, L)
Today you will enjoy a City tour of Reykjavik's top attractions.  Included on the tour will be The old Höfði house (where the summit between the Ronald Reagan and Mikhail Gorbatsjov took place in 1986), the Harpa concert hall (2013 winner of the European Union Prize for Contemporary Architecture – Mies van der Rohe Award), the City Centre, Hallgrímskirkja church  (whose design was inspired by basalt lava columns), the viewing platform at Perlan (whose glass dome provides a 360° view over Reykjavík), and Bessastaðir (the official residence of the President of Iceland).  Conclude the city tour with a 2 course lunch at the Perlan restaurant.
After lunch we we have scheduled Flyover Iceland, a breathtaking show that takes you on a drones-eye view of some of the most spectacular scenery in all of Iceland. Your next and last stop of the day will be the Sky Lagoon, a new spa in the city of Reykjavik that is gaining a reputation for being one of the best in the world.  Your entry will include the "7-step ritual" so be sure to pack your swimsuit, you won't want to miss this!  Following The Sky Lagoon you will be returned to the hotel where you will be able to rest for the remainder of the evening and explore local eateries for dinner.
Accommodation: 4-star hotel in Reykjavik
Day 3
Wednesday, August 12, 2026
ECLIPSE DAY (B, L, D)
The eclipse begins in the late afternoon on August 12 which will allow us time to review the weather and decide on our exact eclipse viewing location that morning.  Following breakfast, the group will all gather in a conference room of the hotel for an eclipse talk and a photography workshop.  The workshop is where you should bring your eclipse photography questions and the astronomers leading the workshop will help you work out your approach to photographing the event. After the workshop we will enjoy a buffet lunch at the hotel before boarding the buses to travel to our observing site.
We will provide all travelers with eclipse sunglasses to protect your eyes and allow you to safely enjoy the eclipse.
ECLIPSE TIMES:
1st contact: 16:45:16 UT/local time
2nd contact: 17:46:05 UT/local time
totality duration: 2 min 02 sec
3rd contact: 17:48:07 UT/local time
4th contact: 18:46:17 UT/local time
After 4th contact we will celebrate a successful eclipse viewing and return to the hotel.  Dinner will be packed boxes that we will have with us (we might be several hours from Reykjavik and in places without services).
Accommodation: 4-star hotel in Reykjavik
Day 4
Thursday, August 13, 2026
Golden Circle & Friðheimar (B, L, D)
After breakfast, you will take a full day tour of some of the best known natural phenomena surrounding Reykjavik. From spouting geysers, massive tumbling waterfalls, and ancient volcanoes, this excursion will introduce you to the world-renowned pristine natural beauty in the heart of Iceland's Southern Region, stopping at some of Iceland's most iconic sites.
Þingvellir National Park is an attraction of great historical, geological and cultural significance. Located in a rift valley where the Eurasian and North American tectonic plates meet, the UNESCO designated world heritage site is also the birthplace of the Althing—Iceland's parliament founded in 930 AD—where the nation's most powerful leaders would meet to decide on legislation and carry out brutal Viking-age justice.  The tour continues across an area of picturesque scenery to the mighty Gullfoss, one of Iceland's most iconic and beloved waterfalls. Once there, you can take several paths around the two tiers of cascading water to explore several vantage points.
Next, you will visit the home of "The Great Geysir", a geysir that is the actual origin of the word "geysir", and is an area with bubbling mud pools, hissing steam vents, and colorful algae deposits. Although Geysir itself has become dormant, there is great excitement when nearby Strokkur geysir blasts boiling water high up into the air every 3-7 minutes!
After visiting the Golden Circle highlights you will enjoy a private dinner at Friðheimar greenhouse, a geothermally heated operation that demonstrates how Icelanders are now able to grow fresh vegetables in their harsh environment. They also have a stable and you will be treated to a horse show with Icelandic horses and a stable visit to see these remarkable horses up close.
Accommodation: 4-star hotel near Hella
Day 5
Friday, August 14, 2026
Vestmannaeyjar (B, L, D)
After breakfast, you will visit Seljalandsfoss waterfall, whose water originates under Eyjafjallajökull's glacier, cascading from the highlands.  Visitors to Seljalandsfoss can walk behind the falls into a small cave if the weather is warm and there is no ice.  From there it is a short ride to the ferry terminal where you will leave on a 30 minute ferry ride to the Westman Islands (Vestmannaeyjar).  Vestmannaeyjar is an archipelago off Iceland's south coast, formed by underwater volcanic eruptions. The youngest island, Surtsey, was formed in 1963. Heimaey is the largest and only inhabited island which is where the ferry will take you. It has 2 volcanoes, Helgafell and Eldfell. Interactive displays at Eldheimar Museum chronicle Eldfell's devastating 1973 eruption, when some 400 buildings were destroyed. Once on Heimaey you will enjoy lunch at a local restaurant before exploring the island by bus.  You will have the chance to hike to a small crater, see puffins nesting and flying near the cliffs, and visit the Eldheimar museum.
After the museum you will return to the ferry and the mainland and return to the hotel for a lovely 3 course dinner.
Accommodation: 4-star hotel near Hella
Day 6
Saturday, August 15, 2026
South Coast (B, L, D)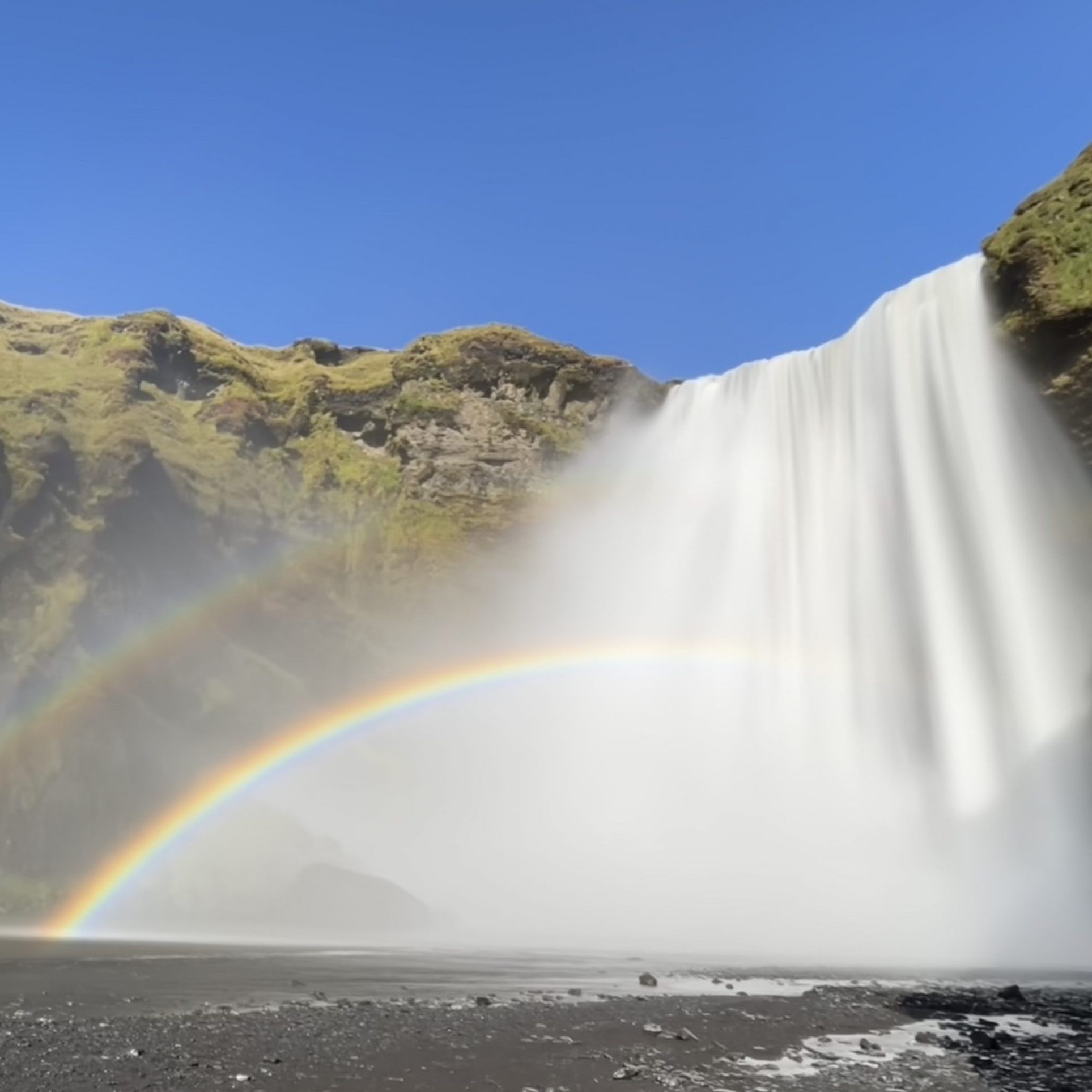 Following breakfast you will visit Skógarfoss waterfall. Skógafoss is one of the biggest waterfalls in Iceland, with a drop of some 60 meters and a width of 25 meters, and you can walk right up to it, but be prepared to be drenched. From there we will proceed to Vik, a lovely remote seafront village in south Iceland. Vik sits in the shadow of Mýrdalsjökull glacier, which covers the Katla volcano. The environment around Vik has generated tales about trolls as well as other fairy tales that you may recognize.
Leaving Vik, you will proceed to a hotel close to the glacier lagoon where we will enjoy a nice 2 course lunch. After, you will visit Jökulsárlón Glacier Lagoon. Its' still, blue waters are dotted with icebergs from the surrounding Breiðamerkurjökull Glacier.  The lagoon connects with the ocean and is composed of seawater and freshwater creating a unique color. Seals can be seen in Jökulsárlón year-round, but they flock to the lagoon's mouth to catch fish in the winter. As the glacier lagoon water flows through the short waterway into the Atlantic Ocean it leaves chunks of ice on a black sand beach commonly called Diamond Beach. These large pieces of ice are more than 1,000 year old, very clear, and resemble massive diamonds as they lie in striking contrast against the black sand. While there, we will take an amphibian boat tour of the lagoon where you will come face to face with the giant icebergs and visit the secret and quiet places most tourists will never reach. 
Day 7
Sunday, August 16, 2026
Reykjanes and Blue Lagoon (B, L, D)
After breakfast you will visit Reynisfjara beach.  Famous for its black sand, remarkable basalt columns, and sneaker waves, this beach has been selected as one of the top-ten most beautiful non-tropical beaches in the world.  It is also where the story "sealskin" originated which is easy to understand when you visit.  As we head back in the direction of Reykjavik, we will stop to see the interactive volcano exhibition at the LAVA center in Hvolsvöllur to discover the colossal and complex natural forces that shape the Earth and began to create Iceland tens of millions of years ago.
Following lunch, you will visit the Blue Lagoon and relax in its remarkable waters. The Blue Lagoon is one of Iceland's most popular tourist attractions and considered by many to be an intrinsic part of the Iceland experience. Breathtaking scenery, ultra modern facilities, and an impressive track record in healing are why the Blue Lagoon draws visitors from all corners of the world to return time and time again.
On your return to Reykjavik you will enjoy a farewell dinner. Overnight Reykjavik.
Day 8
Monday, August 17, 2026
Departure Day (B)
After breakfast you will check out of the hotel and have several hours to do some last minute shopping before the afternoon transfer to the airport. Transfers to the airport will be provided.
Included
Astronomer and Scientist guides

Professional bilingual guide

All ground transportation

4-star accommodations

Airport transfers on first and last day of the tour

Meals (as described in itinerary)

Lectures: Astronomy/science talks throughout the tour.

Blue Lagoon entrance fee

Perlan observation deck
LAVA Center museum entrance
Hellisheiði power plant entrance
Friðheimar greenhouse

Park entrance fees
Not Included
International flights

Items of a personal nature

Alchoholic beverages (unless specifically included)

Tips for drivers and guides

Meals not specified in the itinerary

Activities or services not mentioned in the itinerary

Travel insurance
Reserve Your Spot on the August 10-17, 2026 Eclipse Tour to Iceland