August, 2026: Solar Eclipse
Iceland or Spain | August, 2026
NOW ACCEPTING RESERVATIONS!
August 12, 2026.  Both Iceland and Spain will experience a total solar eclipse!  We are delighted to announce that we are operating two tours, one to Iceland and one to Spain.  Explore Iceland with Sirius Travel and you will enjoy access to our astronomer and geologist guides. These guides bring their knowledge of solar eclipses and the amazing geology of Iceland to enhance your enjoyment on a well-tested itinerary refined over 5 years of leading annual Northern Lights tours. Travel with our astronomers to sun-drenched Mallorca in Spain and enjoy the rich heritage and natural beauty of that island and view the eclipse as it sets in the west, falling off the limb of the Earth.  The itineraries for both tours have been carefully planned to maximize your chances to view the solar eclipse given historical conditions.
For years we have been weighing the pros and cons of the different locations along the path, finding that each location has a unique set of challenges.  Have you seen several eclipses?  Perhaps the longer totality, incredible geology, full itinerary, and cooler temperatures of Iceland outweigh the risk of clouds.  Have you never seen totality?  Perhaps the better odds in Mallorca, offering some of the best chances of clear viewing in Spain, outweigh the shorter totality and the temperatures at that time of year.  It is unfortunate that there is no perfect location along the path with 100% chance of clear skies but in any location we do our best to optimize our passenger's chances to see totality. Every tour includes activities to round out the time around the eclipse and when possible we include sites of natural beauty as well as those of cultural interest. Travelers should carefully weigh their choices before making a selection.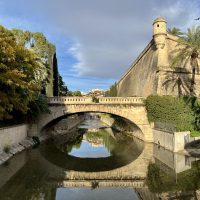 PROS: 75% chance of clear skies, resort destination
CONS: Extreme August temperatures, sun sets before 4th contact, shorter totality (1m 36s)
PROS: Cool temperatures, longer totality (2m 2s), full eclipse through 4th contact, packed itinerary!
CONS: 40% chance of clear skies